Website Design and Optimization
Visit our current corporate site ddacorp.com
Learn more about our website design, eLearning, video production, software development and programming, mobile apps, and augmented reality services.
---

---
Pharmacist CE Website Design and Development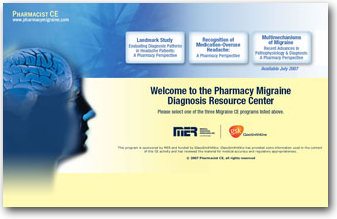 For GlaxoSmithKline, DDA Medical, as a subcontractor for DAW, developed the Pharmacist CME website, which enables participants to register and test for credit in online Continuing Medical Education (CME) courses. Comprised of multiple programs, each designed to be unique with a consistent overarching theme, the custom online medical CME features video of a PowerPoint presentation synched to music with complete user control, and an administrative back end, allowing managers to see who has registered and tested, and to provide all participants with their results. In an age where advancements in the medical community are taking shape every day, professional CME websites are becoming an essential tool to further understanding and provide the best possible healthcare. For online custom CME website design and development services, contact DDA Medical now. Site designed in 2003.
Services Used:
CME Design and Development
Integrated Video
Web Graphics
Website Design
Flash Programming
Healthcare IT
Tests and Quizzes
Instructional Video
Synched to PowerPoint
Training Video
---
---
VIDEO-BASED MEDICAL ELEARNING
Video captures attention and frames information in narrative, character-driven structure that helps keep viewers engaged. That's why video-based medical eLearning platforms are an excellent way to teach complex medical topics and ensure full comprehension. DDA was one of the first digital video/animation studios in the nation, and its long history in developing video-based medical eLearning platforms has given the company the experience it takes to create powerful learning experiences that are enjoyable and lead to long-term memory retention. DDA handles everything from concept to completion, including scriptwriting, storyboarding, casting, platform design, course content integration, metrics reporting, administration features, and anything else that may be required. Make your video-based eLearning a success. Contact DDA today.
---
Latest Blog Posts
---
Medical Advertising and Marketing | Corporate and Medical Videos | Corporate and Medical Training
Search Engine Marketing | Custom Software Programming | USA Marketing and Advertising
Interactive Media Design
Search Engine Marketing Philadelphia | Search Engine Optimization Pennsylvania
Search Engine Promotion New Jersey | Website Design Philadelphia | Website Marketing Delaware
Website Optimization New York | Website Promotion Pennsylvania | Internet Promotion Delaware 
Internet Business Pennsylvania | Internet Advertising Philadelphia | Internet Marketing New Jersey