Website Design and Optimization
Visit our current corporate site ddacorp.com
Learn more about our website design, eLearning, video production, software development and programming, mobile apps, and augmented reality services.
---

---
Custom Website Design for Whitford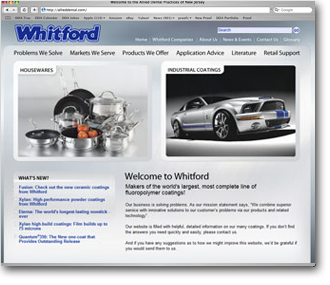 You can't manufacture the world's most complete line of fluoropolymer coatings and not have a world-class website. That's why Whitford commissioned DDA to design and develop a site to feature their long list of houseware and industrial coatings. From cookies to cars, Whitford provides innovative solutions that result in exceptional nonstick bakeware or torque control. Not only did DDA design their site, which services over 30 locations worldwide, but we also organized their search engine marketing optimization and supplied the site with illustrations and digital photography of Whitford products. Site designed in 2011.
---
---
MEDICAL ELEARNING VIDEOS AND ANIMATIONS
DDA was one of the first all digital video and animation studios in the country, and it has honed its services over the years by developing some of the highest quality medical eLearning videos and animations in the industry. Medical videos are effective when nothing but a real world view will do. DDA has captured complex surgical procedures on location, as well as recording spokesperson and other eLearning videos in its own green screen equipped studios just outside of Philadelphia. DDA provides casting of any professional voice-over or on-screen talent required through its own Actors' Network. DDA also produces 2D medical animations, useful when anatomical structures need to be simplified or color contrasted to be understood, and 3D medical animations, when internal anatomical structures must be understood within their broader context within the body. Learn more about DDA's long history with medical eLearning videos and animations. Contact DDA today.
---
Latest Blog Posts
---
Medical Advertising and Marketing | Corporate and Medical Videos | Corporate and Medical Training
Search Engine Marketing | Custom Software Programming | USA Marketing and Advertising
Interactive Media Design
Search Engine Marketing Philadelphia | Search Engine Optimization Pennsylvania
Search Engine Promotion New Jersey | Website Design Philadelphia | Website Marketing Delaware
Website Optimization New York | Website Promotion Pennsylvania | Internet Promotion Delaware 
Internet Business Pennsylvania | Internet Advertising Philadelphia | Internet Marketing New Jersey