Website Design and Optimization
Visit our current corporate site ddacorp.com
Learn more about our website design, eLearning, video production, software development and programming, mobile apps, and augmented reality services.
---

---
Tinius Olsen Dominates the Marketplace with Website Development from DDA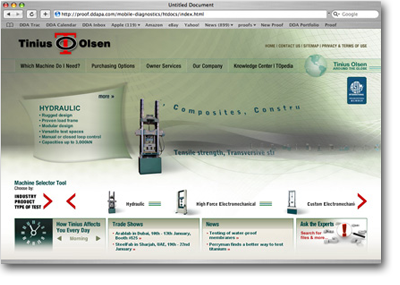 Tinius Olsen is one of the oldest continually operating companies in the country, having been founded in 1860, and is a leader in material testing equipment. In 2008, DDA finished our third website for Tinius. Each site, including the current, was built on an aggressive and very successful search marketing platform, and is the central component to their worldwide marketing. The website has helped them to dominate the marketplace. One of the key issues in the current website development project was developing a navigation mechanism to help users find the right testing machine for their needs. DDA was able to create, develop, and integrate a comprehensive and easy-to-use navigation system that allows users to search for machines based on three different categories, industry, product, and the type of test, providing a state-of-the-art user experience.
Services Used:

Web graphics
Website design
Flash programming
Flash animation
Web animation
Search engine optimization
Optimized website design and development
---
---
VIRTUAL MEDICAL SIMULATIONS
Virtual medical simulations represent the pinnacle of medical eLearning. Combining live-action video, voice-over narration, custom 3D environments, 3D models, 2D and 3D animation, virtual reality, gamified skills testing, certification, and more, virtual medical simulations represent the core of what DDA is all about: combining creative and technical disciplines to execute robust interactive multimedia platforms with beautiful aesthetics and engaging dynamics that make for richly rewarding and memorable experiences. DDA pioneered virtual medical simulation technology, and its exceptional work in the field earned it the first issued Tabby Award for Best iPad Healthcare App in 2012, for the Philips Health XperGuide VMS. Contact DDA today to learn more about what virtual medical simulations can do for your organization.
---
Latest Blog Posts
---
Medical Advertising and Marketing | Corporate and Medical Videos | Corporate and Medical Training
Search Engine Marketing | Custom Software Programming | USA Marketing and Advertising
Interactive Media Design
Search Engine Marketing Philadelphia | Search Engine Optimization Pennsylvania
Search Engine Promotion New Jersey | Website Design Philadelphia | Website Marketing Delaware
Website Optimization New York | Website Promotion Pennsylvania | Internet Promotion Delaware 
Internet Business Pennsylvania | Internet Advertising Philadelphia | Internet Marketing New Jersey