Website Design and Optimization
Visit our current corporate site ddacorp.com
Learn more about our website design, eLearning, video production, software development and programming, mobile apps, and augmented reality services.
---

---
Interactive Website for Athletes, Scouts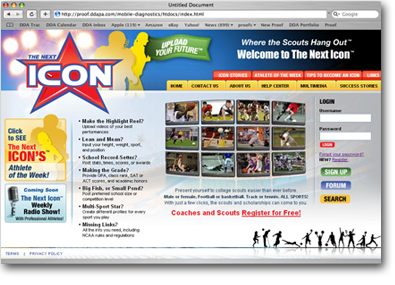 This unique business utilizes a wide variety of DDA's website design and development capabilities, TheNextIcon.com allows student athletes to connect with collegiate and pro scouts in order to secure scholarships or full-time careers in professional sports. Launched in 2008, the site features in-depth custom programming that allows a student athlete to create a personal profile with all pertinent information and highlight videos, and allows scouts and coaches to easily search for those athletes.
All of these features were made possible by DDA's team of experienced programmers, who created the incredible volume of code that allows the site to function correctly. There are multiple databases, four different types of user accounts, and an in-depth administrator back-end area that allows The Next Icon staff to monitor and adjust nearly all areas of the site. Also included is a discussion forum that allows student users to interact with other athletes, Next Icon staff members, and even professional athletes invited to contribute. The site also required programming for complex video upload features that allows users to submit highlight clips in nearly any format. Those clips are then converted automatically and attached to the user profile, allowing scouts and coaches to see the athlete in action. DDA also incorporated a dynamic "video wall" on the front page of the site, including Flash animation, which gives administrators the ability to put their favorite video clips on the front page for easy viewing.
Services Used:

Integrated Video
Multimedia Websites
Membership Websites
Web Graphics
Website Design
Flash Programming
---
---
VIRTUAL MEDICAL SIMULATIONS
Virtual medical simulations represent the pinnacle of medical eLearning. Combining live-action video, voice-over narration, custom 3D environments, 3D models, 2D and 3D animation, virtual reality, gamified skills testing, certification, and more, virtual medical simulations represent the core of what DDA is all about: combining creative and technical disciplines to execute robust interactive multimedia platforms with beautiful aesthetics and engaging dynamics that make for richly rewarding and memorable experiences. DDA pioneered virtual medical simulation technology, and its exceptional work in the field earned it the first issued Tabby Award for Best iPad Healthcare App in 2012, for the Philips Health XperGuide VMS. Contact DDA today to learn more about what virtual medical simulations can do for your organization.
---
Latest Blog Posts
---
Medical Advertising and Marketing | Corporate and Medical Videos | Corporate and Medical Training
Search Engine Marketing | Custom Software Programming | USA Marketing and Advertising
Interactive Media Design
Search Engine Marketing Philadelphia | Search Engine Optimization Pennsylvania
Search Engine Promotion New Jersey | Website Design Philadelphia | Website Marketing Delaware
Website Optimization New York | Website Promotion Pennsylvania | Internet Promotion Delaware 
Internet Business Pennsylvania | Internet Advertising Philadelphia | Internet Marketing New Jersey