Website Design and Optimization
Visit our current corporate site ddacorp.com
Learn more about our website design, eLearning, video production, software development and programming, mobile apps, and augmented reality services.
---

---
Website Design and Development for Product Knowledge Network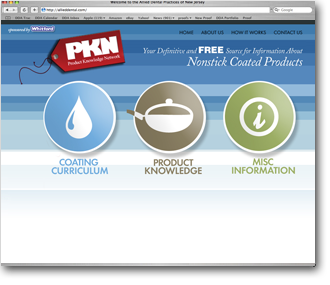 The Product Knowledge Network (PKN) is a free, online informational portal that dispenses technical knowledge about nonstick coated products. Sponsored by Whitford, the world's largest producer of fluoropolymer products (like Teflon), PKN educates retail employees, executives, and consumers about everything from the methods to myths of nonstick coatings. DDA designed this page to be easy to use and distinctly different where information is presented in a user-friendly way. All information is divided into three groups, coating curriculum, product knowledge and miscellaneous information, all of which contain another list of subject categories and drop-down menus. If you're one who likes to get to the point, each section is complete with a summary of all information provided. Site designed in 2011.
---
---
HYBRID ELEARNING EXPERIENCES BY DDA
DDA develops hybrid eLearning multimedia experiences that combine animation, video, text, and more as synchronized media to create rich eLearning course content that visually conveys complex medical topics in a comprehensive and easy-to-understand manner. Hybrid medical eLearning platforms are often developed with extremely broad interactivity parameters to ensure users stay focused by keeping active with the course content, controlling their reception of the multimedia to fit their particular learning style. Hybrid eLearning platforms by DDA offer the realism of video, the detail of 3D model-based animation, the simplicity of 2D animation, the personal touch of voice-over narration, and the straightforward information presentation of text and images to give users many perspectives to help them fully comprehend the information conveyed. DDA provides all services in the creation of its hybrid eLearning platforms, including 3D modeling and animation and video production at its own video and animation studios. Learn more about the advantages of hybrid eLearning. Contact DDA today.
---
Latest Blog Posts
---
Medical Advertising and Marketing | Corporate and Medical Videos | Corporate and Medical Training
Search Engine Marketing | Custom Software Programming | USA Marketing and Advertising
Interactive Media Design
Search Engine Marketing Philadelphia | Search Engine Optimization Pennsylvania
Search Engine Promotion New Jersey | Website Design Philadelphia | Website Marketing Delaware
Website Optimization New York | Website Promotion Pennsylvania | Internet Promotion Delaware 
Internet Business Pennsylvania | Internet Advertising Philadelphia | Internet Marketing New Jersey