Website Design and Optimization
Visit our current corporate site ddacorp.com
Learn more about our website design, eLearning, video production, software development and programming, mobile apps, and augmented reality services.
---

---
Interactive eLearning Tool for Philips Healthcare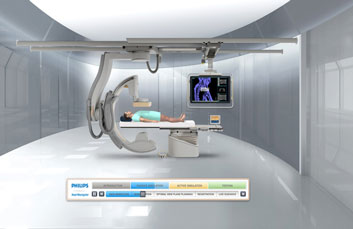 DDA designed an interactive eLearning tool for Philips Healthcare to introduce its new HeartNavigator, a live image guidance device for complex structural heart disease procedures. The tool included a virtual 3D environment with a performer from the DDA Actors' Network to guide the user through both passive and active simulations of procedures using the new device. The passive simulation demonstrates the device's functionality, while the active simulation puts that functionality into the user's hands. By allowing clinicians to test a device in a risk-free environment at their own pace Philips can educate healthcare providers about their latest technologies in a more effective and engaging way than traditional approaches. When engaging in the active simulation the user will get feedback from cues indicating correct and incorrect actions, and if they are in need of more detailed help they can see an example of the task at hand. Once they are confident in their knowledge base they can move into the testing module, answering multiple choice questions on critical information and receiving a personalized, dated certificate once they have attained a passing score. DDA Medical also included closed captioning, log-in and registration pages, and an administrative back-end system for reporting user data. Site designed to 2010.
---
---
VIRTUAL MEDICAL SIMULATIONS
Virtual medical simulations represent the pinnacle of medical eLearning. Combining live-action video, voice-over narration, custom 3D environments, 3D models, 2D and 3D animation, virtual reality, gamified skills testing, certification, and more, virtual medical simulations represent the core of what DDA is all about: combining creative and technical disciplines to execute robust interactive multimedia platforms with beautiful aesthetics and engaging dynamics that make for richly rewarding and memorable experiences. DDA pioneered virtual medical simulation technology, and its exceptional work in the field earned it the first issued Tabby Award for Best iPad Healthcare App in 2012, for the Philips Health XperGuide VMS. Contact DDA today to learn more about what virtual medical simulations can do for your organization.
---
Latest Blog Posts
---
Medical Advertising and Marketing | Corporate and Medical Videos | Corporate and Medical Training
Search Engine Marketing | Custom Software Programming | USA Marketing and Advertising
Interactive Media Design
Search Engine Marketing Philadelphia | Search Engine Optimization Pennsylvania
Search Engine Promotion New Jersey | Website Design Philadelphia | Website Marketing Delaware
Website Optimization New York | Website Promotion Pennsylvania | Internet Promotion Delaware 
Internet Business Pennsylvania | Internet Advertising Philadelphia | Internet Marketing New Jersey