Website Design and Optimization
Visit our current corporate site ddacorp.com
Learn more about our website design, eLearning, video production, software development and programming, mobile apps, and augmented reality services.
---

---
eLearning Tool for Philips Healthcare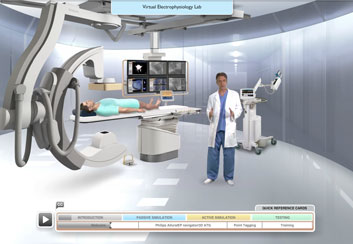 The EP Navigator eLearning tool was developed by DDA Medical for Philips Healthcare as a part of a series of DDA's unique Virtual Medical Simulation programs, designed to help train physicians and medical technicians on the proper use of Philips' medical equipment and software. The tool brings users into a lush Interactive Immersive Environment that replicates the appearance of a lab and procedure room in remarkable detail. The tool begins with an introduction to the Philips interventional suite provided by live action video of an actor from DDA Medical's Actors' Network (filmed on green screen in DDA Medical's studios), who also provides the voice-over narration for the simulations. A passive simulation is provided to demonstrate the procedure, while the active simulation challenges users to virtually perform the procedure on their own.
Users are given the options to navigate to particular sections of the simulations, access close-captioned text, or refer to Quick Reference Cards in PDF format for help. The tool also features a testing section which allows users to demonstrate their knowledge through multiple choice questions and receive a personalized certificate of completion upon passing. There are also login and registration areas, in addition to tracking components accessible through a custom-programmed backend administrative system. DDA Medical's creative and technical professionals designed and developed all components of this VMS and also created a mobile app version for easy use on smartphones and tablets. Site designed to 2011.
---
---
VIRTUAL MEDICAL SIMULATIONS
Virtual medical simulations represent the pinnacle of medical eLearning. Combining live-action video, voice-over narration, custom 3D environments, 3D models, 2D and 3D animation, virtual reality, gamified skills testing, certification, and more, virtual medical simulations represent the core of what DDA is all about: combining creative and technical disciplines to execute robust interactive multimedia platforms with beautiful aesthetics and engaging dynamics that make for richly rewarding and memorable experiences. DDA pioneered virtual medical simulation technology, and its exceptional work in the field earned it the first issued Tabby Award for Best iPad Healthcare App in 2012, for the Philips Health XperGuide VMS. Contact DDA today to learn more about what virtual medical simulations can do for your organization.
---
Latest Blog Posts
---
Medical Advertising and Marketing | Corporate and Medical Videos | Corporate and Medical Training
Search Engine Marketing | Custom Software Programming | USA Marketing and Advertising
Interactive Media Design
Search Engine Marketing Philadelphia | Search Engine Optimization Pennsylvania
Search Engine Promotion New Jersey | Website Design Philadelphia | Website Marketing Delaware
Website Optimization New York | Website Promotion Pennsylvania | Internet Promotion Delaware 
Internet Business Pennsylvania | Internet Advertising Philadelphia | Internet Marketing New Jersey