Website Design and Optimization
Visit our current corporate site ddacorp.com
Learn more about our website design, eLearning, video production, software development and programming, mobile apps, and augmented reality services.
---

---
Website Design and Development for Carolina Piedmont Capital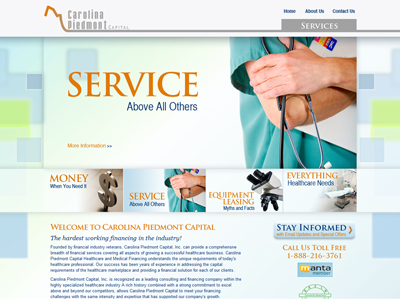 In 2011, DDA redesigned Carolina Piedmont Capital's website in order to bring in a more professional look, a more engaging user experience, and a stronger focus on its healthcare financing services. DDA updated the website with a new front page presentation that scrolls through the four categories of service that Carolina Piedmont Capital sought to emphasize. The site also incorporated a totally new and custom design with a clean layout, easy-to-navigate menu structure, and vibrant color scheme that projects the professional image that the company wanted for its online audience.
---
---
CUSTOM POWERPOINT PRESENTATIONS
PowerPoint presentations remain one of the principle communication aides in spoken presentations, commonly used in the office, in educational settings, and at conferences. A custom PowerPoint design can help establish a strong organizational identity and grant a sense of sophistication to the presentation that can help keep audiences engaged and help them remember the unique perspective you have to offer. DDA's professional graphic designers have worked to establish corporate and medical organizational brand identities across a wide variety of media since its inception in 1994. These core principles are applied to its custom PowerPoint presentation design to help enhance any speaking engagement. DDA can also produce and integrate video into PowerPoint presentations to give a richer multimedia impact. Contact DDA today to find out how to increase the impact of your next speaking engagement with custom PowerPoint design and video production.
---
Latest Blog Posts
---
Medical Advertising and Marketing | Corporate and Medical Videos | Corporate and Medical Training
Search Engine Marketing | Custom Software Programming | USA Marketing and Advertising
Interactive Media Design
Search Engine Marketing Philadelphia | Search Engine Optimization Pennsylvania
Search Engine Promotion New Jersey | Website Design Philadelphia | Website Marketing Delaware
Website Optimization New York | Website Promotion Pennsylvania | Internet Promotion Delaware 
Internet Business Pennsylvania | Internet Advertising Philadelphia | Internet Marketing New Jersey