Website Design and Optimization
Visit our current corporate site ddacorp.com
Learn more about our website design, eLearning, video production, software development and programming, mobile apps, and augmented reality services.
---

---
Website Design for Harold Beck & Sons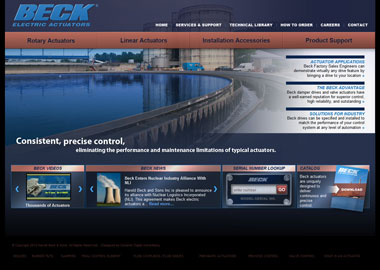 The original website for Harold Beck & Sons was packed with information on the various electric actuator products and services they provide. Not only did they need a fresh design for their site, but they also wanted to make it easier to navigate through the extensive information available on the website as well as keep sections of the website updatable. The website DDA custom redesigned for Beck not only provided a new and unique layout, complete with eye-catching slideshows, integrated videos, and user-friendly menus, but DDA programmers also custom programmed a back-end content management system that allowed Beck staff to update certain sections of their site, including the News, Careers, and Technical Library. The result is a professionally redesigned and developed website that is as attractive as it is easy to use and manage. Site designed in 2012.
---
---
CONTINUING MEDICAL EDUCATION (CME) WEBSITES
Healthcare professionals need to keep their skills up to date by hitting a required number of CME credits on a regular basis. CME websites by DDA are the perfect way to meet their needs. DDA designs and programs custom CME websites that allow for continual additions of new medical eLearning course content comprised of text, images, and supplementary documents, along with certification testing to ensure that users demonstrate proficiency in the materials to qualify for CME certification. DDA builds personalized certificate of completion generators and integrates automated CME accreditation. DDA also develops custom e-Commerce platforms to allow website visitors to purchase access to new courses, with automated email reminders that help keep customers returning to renew their needed CME credits. The options for custom CME website design and development are nearly endless. Contact DDA today to learn how DDA can make your CME website offer real value that delivers bottom line results for your organization.
---
Latest Blog Posts
---
Medical Advertising and Marketing | Corporate and Medical Videos | Corporate and Medical Training
Search Engine Marketing | Custom Software Programming | USA Marketing and Advertising
Interactive Media Design
Search Engine Marketing Philadelphia | Search Engine Optimization Pennsylvania
Search Engine Promotion New Jersey | Website Design Philadelphia | Website Marketing Delaware
Website Optimization New York | Website Promotion Pennsylvania | Internet Promotion Delaware 
Internet Business Pennsylvania | Internet Advertising Philadelphia | Internet Marketing New Jersey