Website Design and Optimization
Visit our current corporate site ddacorp.com
Learn more about our website design, eLearning, video production, software development and programming, mobile apps, and augmented reality services.
---

---
Custom Website Design for Write Science Right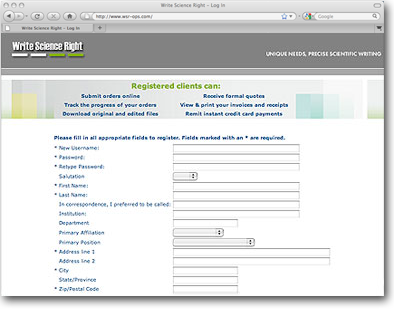 In 2008, DDA completed an order processing system (OPS) for Write Science Right (WSR), a scientific and medical editing company, to help it organize and manage its growing business online. The order processing system, is a three-tiered web-based network where clients can request, monitor, and pay for services, WSR editors can accept and track current and completed work, and the management, acting as administrators, can oversee all business transacted, the progress of all work being done, and manage and distribute electronic invoices and payment for services. The OPS was custom created for WSR based on its exact needs and requests.
The OPS is log-in controlled and there is an automatic quote generator for members, with a calculator that tallies the cost of the work requested. They can then submit their order and track the progress of it. The OPS allowed WSR to take everything that was once done manually and put it online, enhancing the efficiency of orders and project production, as well as potentially saving time and money.
Services Used:

Programming
Website Design and Development
Membership Websites
Website design

---
---
MEDICAL ELEARNING VIDEOS AND ANIMATIONS
DDA was one of the first all digital video and animation studios in the country, and it has honed its services over the years by developing some of the highest quality medical eLearning videos and animations in the industry. Medical videos are effective when nothing but a real world view will do. DDA has captured complex surgical procedures on location, as well as recording spokesperson and other eLearning videos in its own green screen equipped studios just outside of Philadelphia. DDA provides casting of any professional voice-over or on-screen talent required through its own Actors' Network. DDA also produces 2D medical animations, useful when anatomical structures need to be simplified or color contrasted to be understood, and 3D medical animations, when internal anatomical structures must be understood within their broader context within the body. Learn more about DDA's long history with medical eLearning videos and animations. Contact DDA today.
---
Latest Blog Posts
---
Medical Advertising and Marketing | Corporate and Medical Videos | Corporate and Medical Training
Search Engine Marketing | Custom Software Programming | USA Marketing and Advertising
Interactive Media Design
Search Engine Marketing Philadelphia | Search Engine Optimization Pennsylvania
Search Engine Promotion New Jersey | Website Design Philadelphia | Website Marketing Delaware
Website Optimization New York | Website Promotion Pennsylvania | Internet Promotion Delaware 
Internet Business Pennsylvania | Internet Advertising Philadelphia | Internet Marketing New Jersey