Website Design and Optimization
Visit our current corporate site ddacorp.com
Learn more about our website design, eLearning, video production, software development and programming, mobile apps, and augmented reality services.
---

---
Website Expansion for Rebling Plastics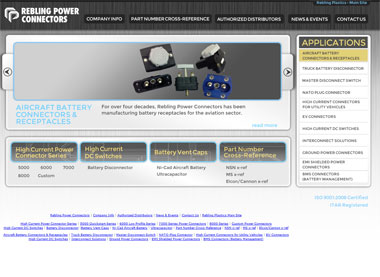 When Rebling Plastics launched their new division, Rebling Power Connectors, they needed to update their website to reflect their growth. They contacted DDA for its custom website design and development services. DDA went to work to create an expanded section on their existing Rebling Plastics website; this would allow Rebling to leverage the success of its current platform onto the new online marketing materials, while also enhancing the search engine rankings of the existing content. DDA designed the new website subsection to be consonant with the visual design already in place on the Rebling Plastics website, while also featuring a new navigational architecture which would ensure an even better user experience for website visitors. A central presentation on the landing page of the Rebling Power Connectors site demonstrated the different applications Rebling's power connectors would benefit, with a separate rollover menu allowing for a quick, easy overview of the products Rebling offers. DDA then built out navigation to the new website subsection on Rebling's homepage. The newly-expanded site allows Rebling to introduce and promote its new division online, increasing the awareness of the full breadth of products the company now provides. Site designed in 2012.
---
---
HYBRID ELEARNING EXPERIENCES BY DDA
DDA develops hybrid eLearning multimedia experiences that combine animation, video, text, and more as synchronized media to create rich eLearning course content that visually conveys complex medical topics in a comprehensive and easy-to-understand manner. Hybrid medical eLearning platforms are often developed with extremely broad interactivity parameters to ensure users stay focused by keeping active with the course content, controlling their reception of the multimedia to fit their particular learning style. Hybrid eLearning platforms by DDA offer the realism of video, the detail of 3D model-based animation, the simplicity of 2D animation, the personal touch of voice-over narration, and the straightforward information presentation of text and images to give users many perspectives to help them fully comprehend the information conveyed. DDA provides all services in the creation of its hybrid eLearning platforms, including 3D modeling and animation and video production at its own video and animation studios. Learn more about the advantages of hybrid eLearning. Contact DDA today.
---
Latest Blog Posts
---
Medical Advertising and Marketing | Corporate and Medical Videos | Corporate and Medical Training
Search Engine Marketing | Custom Software Programming | USA Marketing and Advertising
Interactive Media Design
Search Engine Marketing Philadelphia | Search Engine Optimization Pennsylvania
Search Engine Promotion New Jersey | Website Design Philadelphia | Website Marketing Delaware
Website Optimization New York | Website Promotion Pennsylvania | Internet Promotion Delaware 
Internet Business Pennsylvania | Internet Advertising Philadelphia | Internet Marketing New Jersey