Website Design and Optimization
Visit our current corporate site ddacorp.com
Learn more about our website design, eLearning, video production, software development and programming, mobile apps, and augmented reality services.
---

---
Website Design for NetMRO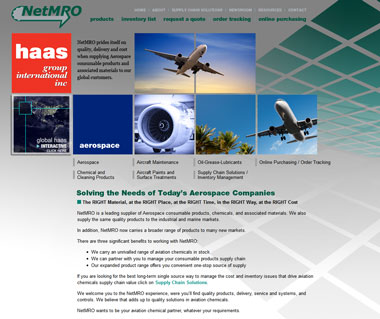 In 2012 NetMRO came to DDA to obtain a newly designed website. The company was a subsidiary of another one of DDA's clients, Haas Group International, and chose to develop their own site using the Haas site as a template. NetMRO's own brand was captured with new content, images, and color schemes that reflected its service to the aviation industry. The site also included a central rotating presentation of images similar to the Haas Group website, but with new images related directly to NetMRO's specific product and service offerings. The global Haas interactive map was included, and users were able to utilize online forms in order to contact the company or request a quote.
---
---
CUSTOM MEDICAL ELEARNING DESIGN AND DEVELOPMENT
DDA provides award-winning custom medical eLearning design and development. DDA combines text, video, 2D and 3D animation, voice-over narration, virtual reality, testing components, certification, metrics reporting, and e-Commerce features to create rewarding, deeply engaging interactive multimedia experiences that lead to end-user comprehension and long-term memory retention. Each eLearning platform produced by DDA is housed in its own custom designed and developed learning management system (LMS), which can be infinitely scaled over time, allowing for the addition of new eLearning courses, continual updates to content, and more advanced metrics reports for greater insight into learning experiences. DDA's vertically integrated structure and collaborative work environment coordinates technical and creative capabilities for optimal results. Contact DDA and expand your understanding of what eLearning can do.
---
Latest Blog Posts
---
Medical Advertising and Marketing | Corporate and Medical Videos | Corporate and Medical Training
Search Engine Marketing | Custom Software Programming | USA Marketing and Advertising
Interactive Media Design
Search Engine Marketing Philadelphia | Search Engine Optimization Pennsylvania
Search Engine Promotion New Jersey | Website Design Philadelphia | Website Marketing Delaware
Website Optimization New York | Website Promotion Pennsylvania | Internet Promotion Delaware 
Internet Business Pennsylvania | Internet Advertising Philadelphia | Internet Marketing New Jersey