Website Design and Optimization
Visit our current corporate site ddacorp.com
Learn more about our website design, eLearning, video production, software development and programming, mobile apps, and augmented reality services.
---

---
MTI Safety Products Website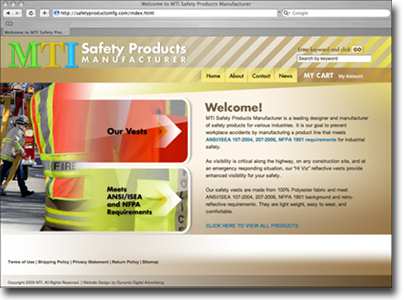 For MultiTech International, a manufacturer of safety apparel, DDA designed and developed this eCommerce destination for the online sale of high visibility safety vests. Inspired by the brightly colored designs of the vests they sell, this attractive site speaks directly to this company's target market by showcasing a flash image rotator of the vests in use. Additionally, DDA's advanced website and database programmers customized an easy to use shopping cart that yields a streamlined shopping experience. Programmed features include discount functionality, a registered user account, and an accurate inventory estimator.
Services Used:

Ecommerce Websites
Web Graphics, Website Design
Optimized Website Design and Development
Search Engine Optimization
---
---
CUSTOM MEDICAL ELEARNING DESIGN AND DEVELOPMENT
DDA provides award-winning custom medical eLearning design and development. DDA combines text, video, 2D and 3D animation, voice-over narration, virtual reality, testing components, certification, metrics reporting, and e-Commerce features to create rewarding, deeply engaging interactive multimedia experiences that lead to end-user comprehension and long-term memory retention. Each eLearning platform produced by DDA is housed in its own custom designed and developed learning management system (LMS), which can be infinitely scaled over time, allowing for the addition of new eLearning courses, continual updates to content, and more advanced metrics reports for greater insight into learning experiences. DDA's vertically integrated structure and collaborative work environment coordinates technical and creative capabilities for optimal results. Contact DDA and expand your understanding of what eLearning can do.
---
Latest Blog Posts
---
Medical Advertising and Marketing | Corporate and Medical Videos | Corporate and Medical Training
Search Engine Marketing | Custom Software Programming | USA Marketing and Advertising
Interactive Media Design
Search Engine Marketing Philadelphia | Search Engine Optimization Pennsylvania
Search Engine Promotion New Jersey | Website Design Philadelphia | Website Marketing Delaware
Website Optimization New York | Website Promotion Pennsylvania | Internet Promotion Delaware 
Internet Business Pennsylvania | Internet Advertising Philadelphia | Internet Marketing New Jersey