Website Design and Optimization
Visit our current corporate site ddacorp.com
Learn more about our website design, eLearning, video production, software development and programming, mobile apps, and augmented reality services.
---

---
Custom Website Redesign for Dumond Chemicals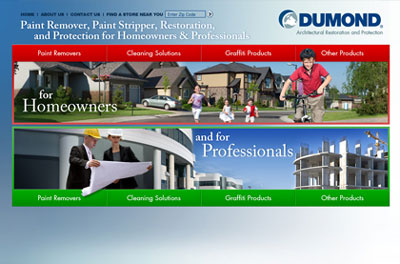 Dumond Chemicals offers environmentally friendly solutions for architectural cleaning and restoration. Their wide selection of paint and graffiti removers is used by both homeowners and professionals alike because of their safe and easy-to-use properties. However, Dumond's website wasn't so easy to use, so that's when they turned to DDA. Dumond wanted to simplify the site's navigation and make it easy for both homeowners and professionals to find exactly what they're looking for. This is why DDA designed the site to group each product by category and split the site in two in order to accommodate both audiences. DDA copywriters also made sure the content was search engine optimized by researching keywords and revising or adding to existing content. DDA photographers updated product package imagery that would be used on the website and in various print applications. Dumond also wanted to add a feature to their store locator, so DDA programmers assisted by adding a product logo function to the site so when a user searches a location they will be able to see which Dumond product is available there.
---
---
VIRTUAL REALITY ELEARNING
Virtual reality is the use of interactive immersive environments to simulate real-world experiences on digital platforms. DDA leads the industry in applying virtual reality technology to practical eLearning solutions for businesses and medical organizations that deliver bottom line results. Virtual reality is at the core of DDA's own virtual medical simulation technology, which combines live action video and voice-over narration with imported models of medical equipment, custom clinical environments, animation, custom programmed passive and interactive simulations, certification, and additional image and document support for a complete learning experience that targets all the senses and learning styles. Virtual reality allows for the most accurate reproduction of real-world learning experiences without the inherent risks associated with real-world practice, thus functioning as the perfect step into learning new procedures and equipment. DDA's first virtual-reality-based VMS application, the Philips XperGuide (the first in a series of four VR apps for the company), won it the first ever awarded Tabby Award for Best Healthcare iPad App in 2012. The potential for virtual reality to expand eLearning capabilities continues to grow with the advances of the technologies and computing devices available to support it. Contact DDA today to find out how virtual reality can transform the way you teach, train, and educate.
---
Latest Blog Posts
---
Medical Advertising and Marketing | Corporate and Medical Videos | Corporate and Medical Training
Search Engine Marketing | Custom Software Programming | USA Marketing and Advertising
Interactive Media Design
Search Engine Marketing Philadelphia | Search Engine Optimization Pennsylvania
Search Engine Promotion New Jersey | Website Design Philadelphia | Website Marketing Delaware
Website Optimization New York | Website Promotion Pennsylvania | Internet Promotion Delaware 
Internet Business Pennsylvania | Internet Advertising Philadelphia | Internet Marketing New Jersey